Foundry 45 Named Atlanta's 'Best Tech Work Culture' at Timmy Awards
Tech in Motion unveils regional winners continuing to new national competition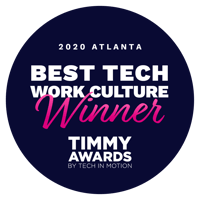 ATLANTA (October 23, 2020) – Foundry 45, which creates immersive virtual reality training for businesses worldwide, has received Best Tech Work Culture in Atlanta honors for its rewarding team environment, Tech in Motion recently announced. The company will join 10 other regional winners to compete for the national Timmy Award, to be announced at the virtual Timmy Awards Ceremony Oct. 29.
Foundry 45 has developed a family-friendly work environment that includes a positive company culture and support for professional and personal development for its diverse workforce. The company offers flexible hours, a casual dress code and team-building events (remote during COVID-19). About 5 percent of the team's total hours are focused on giving back to non-profit organizations that promote education and empower today's youth through technology. The company recently introduced matching donations of up to $100 per full-time employee, per year for the charity of their choice, and also offers paid time off so team members can vote.
"In 2014, we set out to make great immersive experiences, but we knew back then that we had to first create a place that was designed to foster that greatness," said Dave Beck, Foundry 45 Co-Founder and Managing Partner. "Our wish was to build a company where incredibly talented individuals are empowered to put their best foot forward. The Timmy Award shows that we've been successful, and we're delighted to receive this honor."
Thousands of tech community members vote in the Timmy Awards competition. The panel of judges deciding the winners for this year's national Best Tech Work Culture award include Bruce Wang, Director of Engineering at Netflix, Abdul Munda, Head of Engineering at Slack, Harry Hurst, CEO of Pipe, and Nirmal Srinivasan, Software Engineering Director at Paypal.
"More than ever, it's important to recognize the strong cultures companies have established where they continue to make it about far more than perks, especially in light of this year's challenges," says Mandy Walker, Director of Marketing at Tech in Motion. "The Timmy Awards allow the community to highlight the companies building a team worth joining and a culture worth working for."
This year, Tech in Motion will host the award ceremony as an entirely digital experience, announcing national winners via video to finalists, regional winners and the North American tech community.
About Tech in Motion Events
Tech in Motion is an international events series that brings local tech community professionals together to connect, learn, and innovate. What started as a collaborative project in 2011 by the IT recruiting organization Motion Recruitment grew into an organization of over 250,000 members across 14 chapters in North America including Atlanta, Boston, Dallas, New York, Philadelphia, DC, Chicago, San Francisco, Silicon Valley, LA, Orange County and Toronto. Please visit techinmotionevents.com for more information about notable speakers, sponsors and events.
About Foundry 45
Foundry 45 uses leading-edge technologies to create better process training outcomes for enterprise clients. We are a team of strategists, technologists, engineers, creatives, computer programmers and project managers driven to create powerful, immersive virtual reality experiences. By leveraging new, interactive content, we help organizations break the monotony of their current business training routines while providing safer, more efficient and engaging employee training solutions. We've delivered hundreds of VR experiences for clients across the country and around the globe, including a number of Fortune 100 companies. Visit Foundry 45 for more information.